Leaellyn Cure is a Normal Move Card.
Statistics
Edit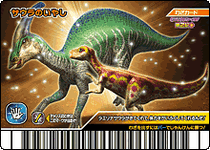 Atribute: Normal
Sign: Paper
Effect: Leaellynasaura comes and heals you slightly!
Artwork from one of its various arcade cards is seen on the TCG Move Card Absorb Power.
This Move can only be used twice for a Dinosaur. This mechanic is similar to Attack Boost, Defense Boost, Technique Boost, and Elemental Power.
Whenever this Move summons Leaellynasaura, there seems to be a miscalculation of the walking animation of the dinosaur, making it walk although it stopped moving. This error is also seen with Cryolophosaurus in Haste, Recovery, and Light Recovery.
Ad blocker interference detected!
Wikia is a free-to-use site that makes money from advertising. We have a modified experience for viewers using ad blockers

Wikia is not accessible if you've made further modifications. Remove the custom ad blocker rule(s) and the page will load as expected.