Lightning Ax is a Lightning Move Card.
Statistics
Edit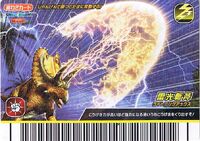 Attribute: Lightning
Sign: Rock
Effect: Create a curved blade of electricity anchored to your horns and use it to slice your opponent!
In the arcade game, this Move sometimes activates after you win with any move button.
Ad blocker interference detected!
Wikia is a free-to-use site that makes money from advertising. We have a modified experience for viewers using ad blockers

Wikia is not accessible if you've made further modifications. Remove the custom ad blocker rule(s) and the page will load as expected.