Magma Blaster is a Fire Super Move.
Statistics
Edit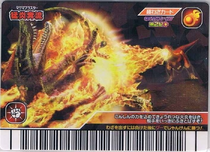 Attribute: Fire
Sign: Rock
Owner: Laura (Alpha Gang) (briefly), Seth (Alpha Gang) (presumably, briefly), Dr. Taylor (D-Team) (briefly), Gavro (Space Pirates), Max Taylor/Rex Owen (D-Team) (never used), Ursula (Alpha Gang)
Used by: Saurophaganax, Torvosaurus, Gigas, Terry
First Appearance: Deuling Dinos
Used to Defeat: Spiny, Black Tyrannosaurus (in Fusion Move)
Effect: Shoot a beam of fire and lava at your opponent!
Other: It was inside Saurophaganax's Dinosaur Card Capsule and activated by the same bonfire it was. It was claimed by Laura and given to Seth, but later it was somehow retrieved, where it was used by Dr. Taylor against the Black T-Rex. Later, Gavro had both Torvosaurus and Gigas use other copies of this card. Torvosaurus' was claimed by Max. Ursula later had Terry use a copy of the card, though it's unclear which one.
Gigas used this Move and accidentally started a forest fire while in the Jurassic Period.
Terry used this Move as part of the Fusion Move that broke open the Dark Pterosaur's outer shield.
It is the first Move used in Mesozoic Meltdown, and it was used by Gavro's Torvosaurus.
Although other Moves were used more often, Magma Blaster was used by 4 dinosaurs, more than any other Move Card. It therefore also has the most copies of any known Move, with at least 3 different physical cards seen (though all likely identical).
In the arcade, you have to win at Rock after losing to use this Move.
Artwork from one of its various arcade cards is seen on the TCG Move Card Searing Lava.
Ad blocker interference detected!
Wikia is a free-to-use site that makes money from advertising. We have a modified experience for viewers using ad blockers

Wikia is not accessible if you've made further modifications. Remove the custom ad blocker rule(s) and the page will load as expected.