Mayfly (カゲロウ Kagerou) is a Wind Move Card. It is similar to Ninja Attack.
Statistics
Edit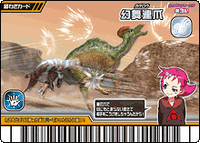 Attribute: Wind
Sign: Paper
Owner: Max Taylor (D-Team), Rex Owen (D-Team), Foolscap (Space Pirates)
Used By: Allosaurus, Ace, Majungasaurus
Debut: A Mesozoic Mess
Used to Defeat: Chomp, Spiny, Terry, Tank, Black T-Rex (as part of fusion move)
Effect: Run around your opponent so quickly they can't see you, then ram into them repeatedly!
Other: It was Ace's third Move Card, and one of the few that the D-Team's dinosaurs used after acquiring them from wild dinosaurs.
Dinosaur King
Edit
In A Mesozoic Mess, it was inside Allosaurus' Card Capsule and was activated with it by the same breeze. It used the Move against Chomp, weakening him for a final blow. It later used it to defeat Spiny. When Allosaurus used it against Ace, however, Ace used Ninja Attack to evade the attack and then hit Allosaurus; Allosaurus was defeated and the Mayfly card claimed by Max.
Ace later used it against Terry and Tank. In the finale, Rex had Allosaurus use it again to help to defeat Black Tyrannosaurus.
Mesozoic Meltdown
Edit
Foolscap later also had Majungasaurus use a copy of the card against Ace.
When it is used by Allosaurus and Ace, it is called "Mayfly", but when Majungasaurus uses it, it is called "Kagerou", the Japanese name, although Foolscap mispronounces it and says it more like "Kangaroo".
"Mayfly" is the literal translation of the Japanese version of "Kagerou", which refers to a type of insect. The proper translation would be "Ephemera", which means "short-lived".
An altered version of the artwork from one of its arcade cards is seen on the TCG Move Card Whip Shock.
In the arcade game, you have to win at Paper after a win to use this Move.