Megaraptor
Talk

0
620pages on
this wiki
Note: Megaraptor is actually part of the Neovenatoridae family, and the claw which was thought to be on the toe was actually part of the thumb. However, because this mistake was not known at the time of production, Megaraptor is depicted as a dromaeosaurid.
General Statistics
Edit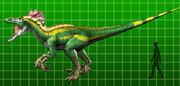 Name: Megaraptor namunhuaiquii
Name Meaning: Giant Thief
Diet: Carnivore
Length: 8-9 meters (26-30 feet)
Time Period: Middle/Late Cretaceous
Classification: Allosauroidea --> Neovenatoridae
Place Found: Argentina
Describer: Novas, 1998
Dinosaur King Statistics
Edit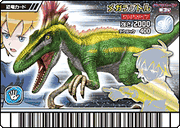 Attribute: Wind
Power: 2000
Technique: 400
Sign: Paper
Name: Meg (Dub) (2nd Megaraptor only)
Other: Megaraptor was activated at an airport, thanks to the Alpha Gang's rocket crashing. It was defeated by Spiny, but Max got its card. In the Pterosaur Legends, Sheer used another Megaraptor (named "Meg"), who has a Spectral Armor form. It almost defeated Chomp and Paris, but lost because Ace's Ultimate Wind was stronger than her Ninja Attack. There is a Black Megaraptor card in the Black Dinosaur Rampage booster pack. Eoraptor can transform into a Megaraptor. To get Megaraptor in the DS Game, you have to connect to the wi-fi 50 times.
Move Cards
Edit
Megaraptor kicked a rock, sending smaller rock shards at Jim.
Megaraptor created multiple clones of itself and ran at Ace. However, it was defeated by Ace's simultaneous Ultimate Wind.
TCG Lores
Edit
Eagle Eye

When you Dino Slash this Dinosaur, your opponent must play with his hand revealed until the end of the turn.

Doppelganger (Lost Megaraptor)

Instead of attacking with this Dinosaur, you can let 1 of your other Dinosaurs attack directly even if your opponent has Dinosaurs in play. After it attacks, put that Dinosaur on top of your deck.

Super Whirlwind (Surprise Attack Megaraptor)

When this Dinosaur uses a Super Move and wins the battle, it can attack again, but it must attack a Dinosaur.

Twin Talons (Prowling Megaraptor)

When this Dinosaur attacks directly, your opponent loses 1 extra Life Point.

Camouflage (Prowling Megaraptor)

When this Dinosaur attacks, your opponent cannot use the ability [Defender].

Spectral Armor (Spectral Armor Megaraptor)

You can only Dino Slash this Dinosaur by placing it on top of a Megaraptor.

Hyperstorm (Spectral Armor Megaraptor)

When you Dino Slash this Dinosaur from your hand, your opponent loses 3 Life Points.