Of the fifteen or so species of Monoclonius that have been named over time, all but one have either been reclassified as belonging to Centrosaurus or Styracosaurus, been synonymized with other species, or been declared dubious or invalid. Many scientists consider Monoclonius itself to be the same as Centrosaurus.
General Statistics
Edit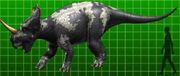 Name: Monoclonius crassus
Name Meaning: Single Stem (etym. Mono+Klon+Ius)
Diet: Herbivore
Length: 5-6 meters (16-20 feet)
Time Period: Late Cretaceous
Classification: Ceratopsidae --> Centrosaurinae --> "Centrosaurini"?
Place Found: Canada, America
Describer: Cope, 1876
Dinosaur King Statistics
Edit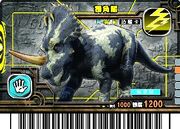 Monoclonius
Edit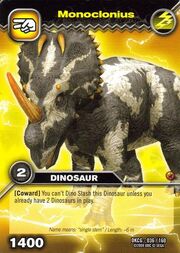 Attribute: Lightning
Sign: Scissors
Power: 1400
Level: 2
Life: 1
Abilities:
[Coward]

You can't Dino Slash this Dinosaur unless you already have 2 Dinosaurs in play.
Savannah Monoclonius
Edit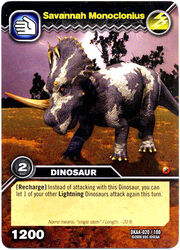 Attribute: Lightning
Sign: Paper
Power: 1200
Level: 2
Life: 1
Abilities:
[Recharge]

Instead of attacking with this Dinosaur, you can let 1 of your other Lightning Dinosaurs attack again this turn.
Ad blocker interference detected!
Wikia is a free-to-use site that makes money from advertising. We have a modified experience for viewers using ad blockers

Wikia is not accessible if you've made further modifications. Remove the custom ad blocker rule(s) and the page will load as expected.