Move Breaker is a Normal Move Card.
Statistics
Edit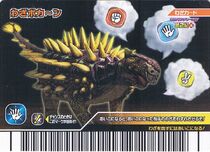 Attribute: Normal
Sign: Paper
Effect: During a tie, your opponent's Move Card will be forgotten! Specifically, if your opponent has a Move Card equipped and you tie on the sign of that Move, then that Move won't activate if they win on the next non-tie.
Artwork from one of its various arcade cards is seen on the TCG Move Card Surprise Technique.
Ad blocker interference detected!
Wikia is a free-to-use site that makes money from advertising. We have a modified experience for viewers using ad blockers

Wikia is not accessible if you've made further modifications. Remove the custom ad blocker rule(s) and the page will load as expected.