Move Breaker is a Normal Move Card.
Statistics
Edit
This Move Card was only available in arcade.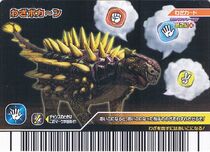 Attribute: Normal
Sign: Paper
Usage Condition: This Move activates when you tie with any signs.
Effect: During a tie, your opponent's Move Card will be forgotten! Specifically, if your opponent has a Move Card equipped and you tie on the sign of that Move, then that Move won't activate if they win on the next non-tie. Its effect is cumulative in sequential ties, and can affect all three Signs at once if allowed; the chain is broken when one dinosaur wins and attacks.
Japanese
English
Taiwanese
Artwork from one of its various arcade cards is seen on the TCG Move Card Surprise Technique.