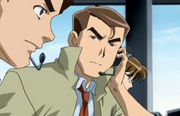 Mr. Stanley is an air traffic controller that Reese knows. He appears in Just Plane Crazy. He doesn't seem to like animals, but is very devoted to his job, not abandoning the broken tower equipment even when a dinosaur battle was happening mere feet away.
Ad blocker interference detected!
Wikia is a free-to-use site that makes money from advertising. We have a modified experience for viewers using ad blockers

Wikia is not accessible if you've made further modifications. Remove the custom ad blocker rule(s) and the page will load as expected.