While it is commonly portrayed as possessing thumb spikes like Iguanodon, it likely didn't have any.
General Statistics
Edit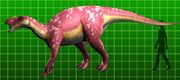 Name: Muttaburrasaurus langdoni
Name Meaning: Lizard from Muttaburra
Diet: Herbivore
Length: 7-8 meters (23-26 feet)
Time Period: Early/Middle Cretaceous
Classification: Iguanodontia --> Rhabdodontidae
Place Found: Griman Creek Formation; Mackunda Formation, Australia
Describer: Bartholomai and Molnar, 1981
Dinosaur King Statistics
Edit
Attribute: Grass
Sign: Scissors
Power: 1000
Technique: 1100
Other: Its altered form can be found at Super Muttaburrasaurus.
TCG Lores
Edit
Team Up: +300

You can be play this card as a Move that gives +300 Power.

Element Shift: Wind (Lost Valley Muttaburrasaurus)

During your turn, you can discard 1 card. If you do, this Dinosaur's Element is both Grass and Wind until the end of the turn. (You can't use this ability during an attack.)
Ad blocker interference detected!
Wikia is a free-to-use site that makes money from advertising. We have a modified experience for viewers using ad blockers

Wikia is not accessible if you've made further modifications. Remove the custom ad blocker rule(s) and the page will load as expected.