Nature's Blessing is a Grass Move Card.
Statistics
Edit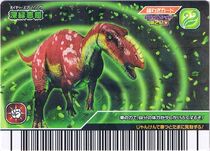 Despite being the only Dinosaur to use the Move, Paris never used it to heal herself.
Paris tried to use it to heal Styracosaurus in Maui Owie!, but Terry hit her before she could use it properly.
Despite the fact that it is a healing move, Paris used it in the Fusion Move that defeated the Black T-Rex. This was potentially because this was the only Super Move she had animation for not involving an assistant dinosaur.
Artwork from its various arcade cards is seen on the TCG Move Cards Grass Power (07 1st/1st+), Emerald Cure (Geki 1st), Super Nature's Revenge (07 4th/4th+), and Nature Burst (Geki 3rd), and an altered version is seen on Leaf Tornado (Kaku 6th/08 Sp).
In the arcade game, this Move activates almost at random when you win with any Move button.  It is also used as a "Partner effect" when the 2nd dinosaur (MUST be Grass type) is not fighting. It occurs sometimes whenever the Grass dinosaur's partner (The dinosaur that is fighting) wins.