Nemegtosaurus is known only from a single skull, which was for a time thought might belong to the headless Opisthocoelicaudia, but not anymore.
General Statistics
Edit
Name: Nemegtosaurus mongoliensis
Name Meaning: Nemegt Lizard
Diet: Herbivore
Length: 12-15 meters (40-50 feet)
Time Period: Late Cretaceous
Classification: Titanosauria --> Nemegtosauridae
Place Found: Nemegt Basin, Mongolia
Describer: Nowinski, 1971
Dinosaur King Statistics
Edit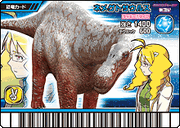 Attribute: Water
Power: 1400
Technique: 600
Sign: Scissors
Other: It has a TCG-only Alpha form.
Ad blocker interference detected!
Wikia is a free-to-use site that makes money from advertising. We have a modified experience for viewers using ad blockers

Wikia is not accessible if you've made further modifications. Remove the custom ad blocker rule(s) and the page will load as expected.