Recently, most of the "classic" Oviraptor fossil specimens have been reassigned to a second species of another genus, Citipati, due to their inconsistencies with the original Oviraptor holotype (specimen used to define species).
General Statistics
Edit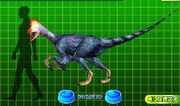 Name: Oviraptor philoceratops
Name Meaning: Egg Robber
Diet: Omnivore
Length: 2-3 meters (6-10 feet)
Time Period: Late Cretaceous
Classification: Oviraptorosauria --> Caenagnathoidea --> Oviraptoridae
Place Found: Mongolia
Describer: Osborn, 1924
Dinosaur King Statistics
Edit
Nickname:

English: The Falsely-Accused Thief

Attribute: Grass
Sign: Rock
Other: Even though Oviraptor didn't appear in the series, its name was mentioned in episode 7 in as a answer for the Gobble Gobble Brain Boggle Dinosaur Trivia Quiz. In the DS Game, it had a fusion move called Egg Machine Gun which combined Earth/Grass elements. They appear in a comic on the TCG website.
Assist Move Cards
Edit
Egg Attack (Egg Blaster in TCG)

3 Oviraptor shoot eggs at your opponent! It doesn't appear in the anime.
Ad blocker interference detected!
Wikia is a free-to-use site that makes money from advertising. We have a modified experience for viewers using ad blockers

Wikia is not accessible if you've made further modifications. Remove the custom ad blocker rule(s) and the page will load as expected.