Recently, most of the "classic" Oviraptor fossil specimens have been reassigned to a second species of another genus, Citipati, due to their inconsistencies with the original Oviraptor holotype (specimen used to define species).
General Statistics
Edit
Name: Oviraptor philoceratops
Name Meaning: Egg Robber
Diet: Omnivore
Length: 2-3 meters (6-10 feet)
Time Period: Late Cretaceous
Classification: Oviraptorosauria --> Caenagnathoidea --> Oviraptoridae
Place Found: Mongolia
Describer: Osborn, 1924
Dinosaur King Statistics
Edit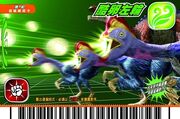 Assist Moves:
Arcade Nickname/Catchcopy:

English: The Falsely-Accused Thief

Other: Even though Oviraptor didn't appear in the series, its name was mentioned in episode 7 in as a answer for the Gobble Gobble Brain Boggle Dinosaur Trivia Quiz. In the DS Game, it had a fusion move called Egg Machine Gun which combined Earth/Grass elements. They appear in a comic on the TCG website.
Dr. Taylor's arcade comments:

English: Has an interesting face. Despite its name, it seems to good care of its eggs.

Oviraptor and Egg Attack are the only Assist Super Move Card Dinosaur and Assist Super Move available as a Fossil card, and are the 21st Fossil card in the arcade.
In addition to Egg Blaster, Oviraptor appears on the TCG Move Cards Magical Shot and Spore Storm.