General Statistics
Edit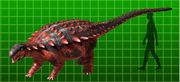 Name: Panoplosaurus mirus
Name Meaning: Completely Armoured Lizard
Diet: Herbivore
Length: 6-7 meters (20-23 feet)
Time Period: Late Cretaceous
Classification: Ankylosauria --> Nodosauridae
Place Found: USA, Canada
Describer: Lambe, 1919
Dinosaur King Statistics
Edit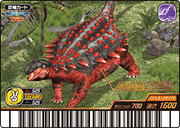 Attribute: Earth
Power: 1600
Technique: 700
Sign: Scissors
Panoplosaurus doesn't have a TCG dinosaur card, but does appear in the artwork on the Super Move Crystal Shards. It is one of the very few dinosaurs to not properly appear in the TCG.
Ad blocker interference detected!
Wikia is a free-to-use site that makes money from advertising. We have a modified experience for viewers using ad blockers

Wikia is not accessible if you've made further modifications. Remove the custom ad blocker rule(s) and the page will load as expected.