General Statistics
Edit
Name: Panoplosaurus mirus
Name Meaning: Completely Armoured Lizard
Diet: Herbivore
Length: 6-7 meters (20-23 feet)
Time Period: Late Cretaceous
Classification: Ankylosauria --> Nodosauridae
Place Found: USA, Canada
Describer: Lambe, 1919
Dinosaur King Statistics
Edit
Panoplosaurus was only available in the Japanese arcade game.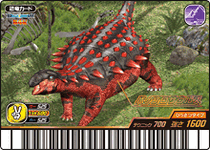 Dr. Taylor's arcade comments:

Original: エドモントニアのような草食恐竜で、せなかにがんじょうなよろいを持っていた。
Translation: A herbivore similar to the Edmontonia, it has a sturdy armor at its stomach.

It is the third Bronze rarity Earth Dinosaur card in the arcade.
Panoplosaurus doesn't have a TCG dinosaur card, but does appear in the artwork on the Super Move Crystal Shards. It is one of the very few dinosaurs to not properly appear in the TCG.