For the Parasaurolophus that appears in the anime, see Paris.
Although female Parasaurolophus are usually shown with shorter, rounded crests, all such specimens are currently classified as a distinct species (P. cyrtocristatus).
General Statistics
Edit

Dinosaur King Statistics
Edit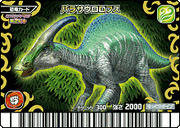 Parasaurolophus
Edit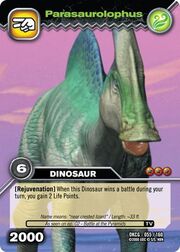 [Rejuvenation] (DKCG)

When this Dinosaur wins a battle during your turn, you gain 2 Life Points.

Figure Ability (DKPM)

When you Dino Slash this Dinosaur, put its figure on it. If this Dinosaur has its figure on it when it wins a battle, remove its figure. Then, look at the top card of your deck. You can put that card on the top or bottom of your deck.
Noble Parasaurolophus
Edit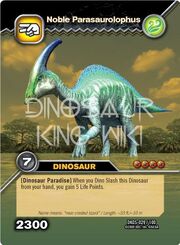 [Dinosaur Paradise]

When you Dino Slash this Dinosaur from your hand, you gain 5 Life Points.
Ad blocker interference detected!
Wikia is a free-to-use site that makes money from advertising. We have a modified experience for viewers using ad blockers

Wikia is not accessible if you've made further modifications. Remove the custom ad blocker rule(s) and the page will load as expected.