General Statistics
Edit

Name: Polacanthus foxii
Name Meaning: Many Spikes
Time Period: Early Cretaceous
Size: 4-5 meters (13-16 feet)
Diet: Herbivore
Classification: Ankylosauria --> Nodosauridae(?) --> "Polacanthinae"
Place Found: England, Europe
Discoverer: Owen, 1865
Dinosaur King Statistics
Edit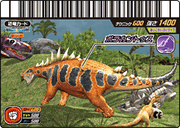 Attribute: Earth
Power: 1400
Technique: 600
Sign: Rock
TCG Lores
Edit
Super Survival

When this Dinosaur uses a Super Move and wins the battle, you can return 1 of your other Earth Dinosaurs in play to your hand.
Arcade Availability
Edit
The card was only available in Japanese version.
Kakushin 4th Edition
Kakushin 6th Hyper Battle Museum Edition
One of Polacanthus' arcade cards (shown above) curiously features what appears to be a golden-colored Eoraptor, differing from its white and purple coloration as a Secret Dinosaur, potentially suggesting that its Secret form is an Altered form.