Alpha Rajasaurus (also known as Super Alpha Rajasaurus in the arcade/DS games) is an altered form of Rajasaurus, being twice as powerful in comparison.
Statistics
Edit
Arcade & DS
Edit
Super Alpha Rajasaurus was only available in Japanese version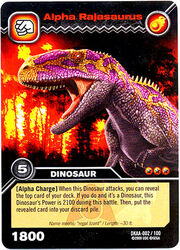 Attribute: Fire
Sign: Rock
Power: 1800
Level: 5
Life: 3
Card Code: DKAA-002/100
Card Rarity: Common
Abilities:
[Alpha Charge]

When this Dinosaur attacks, you can reveal the top card of your deck. If you do and it's a Dinosaur, this Dinosaur's Power is 2100 during this battle. Then, put the revealed card into your discard pile.
Zander's arcade comments:

Original: カルノタウルスににた肉食恐竜で頭に一本のひくい角があり、がっしりとした体つきをしているぞい。
Translation: It is a cranivore which has a single horn similar to Carnotaurus, it has a solid body.