Rugops' TCG Card features a size estimate of 30 ft (9 m), far larger than any scientific estimate.
General Statistics
Edit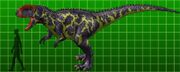 Name: Rugops primus
Name Meaning: First Wrinkled Face
Diet: Carnivore
Length: 4.4-6 meters (14-20 feet)
Time Period: Middle/Late Cretaceous
Classification: Abelisauroidea --> Abelisauridae
Place Found: Niger
Describer: Sereno, Wilson & Conrad, 2004
Dinosaur King Statistics
Edit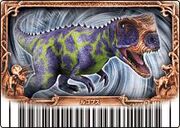 Attribute: Wind
Power: 1600
Technique: 500
Sign: Scissors
TCG Lores
Edit
Super Whirlwind

When this Dinosaur uses a Super Move and wins the battle, it can attack again, but it must attack a Dinosaur.

Spirited Strike (Shouting Rugops)

During your turn, you can discard 1 card. If you do, this Dinosaur can attack your opponent directly this turn. You can only use this ability once per turn.