General Statistics
Edit

Name: Saichania chulsanensis
Name Meaning: Beautiful One
Diet: Herbivore
Length: 6-7 meters (20-23 feet)
Time Period: Late Cretaceous
Classification: Ankylosauria --> Ankylosauridae --> Ankylosaurinae
Found: Mongolia
Describer: Maryanska, 1977
Dinosaur King Statistics
Edit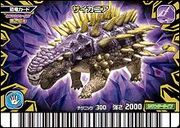 TCG Lores
Edit
Mega Quake

At the end of each turn, your opponent loses 1 Life Point.

Planet Smasher (Solid Saichania)

At the end of your opponent's turn, they lose 4 Life Points.
It was the first gold rarity Earth Dinosaur card in the arcade.
Ad blocker interference detected!
Wikia is a free-to-use site that makes money from advertising. We have a modified experience for viewers using ad blockers

Wikia is not accessible if you've made further modifications. Remove the custom ad blocker rule(s) and the page will load as expected.