Sand Trap is an Earth Move Card.
Statistics
Edit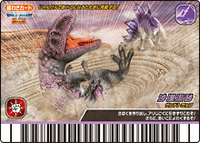 Attribute: Earth
Sign: Rock
Owner: Sheer (Space Pirates)
Used By: Lexovisaurus
First Appearance: Princess of the City
Used to Defeat: None
Effect: Trap your opponent in swirling pool of sand, then a sharp mountain of sand with erupt from the pool, stabbing and throwing your opponent! The second part of this Move's effect was never seen in the anime.
Artwork from its various arcade cards is seen on the TCG Move Cards Quicksand Drain and Earthquake (SAS only, it is one of the only arcade/anime Moves to have its TCG card showing another Move).
In the arcade game, this Move sometimes activates after you tie with any move button.
Ad blocker interference detected!
Wikia is a free-to-use site that makes money from advertising. We have a modified experience for viewers using ad blockers

Wikia is not accessible if you've made further modifications. Remove the custom ad blocker rule(s) and the page will load as expected.