While formerly considered a tyrannosauroid, hence its name and assignment to the Fire Attribute, Siamotyrannus is likely a metriacanthosaurid.
General Statistics
Edit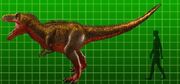 Name: Siamotyrannus isanensis
Name Meaning: Siamese Tyrant
Diet: Carnivore
Length: 6-7 meters (20-23 feet)
Time Period: Early Cretaceous
Classification: Allosauroidea --> Metriacanthosauridae(?)
Place Found: Thailand
Describer: Buffetaut, Suteethorn and Tong, 1996
Dinosaur King Statistics
Edit
Attribute: Fire
Power: 1200
Technique: 1000 (assumption based on Power (see 2nd image))
Sign: Rock
Type: Charge
N/A
Element: Fire
Power: 1400
Sign: Rock
Level: 2
Life: 1
Berserk

When this Dinosaur attacks directly, you lose 1 Life Point.
Its arcade card never appeared in any release edition, but the barcode was available in the machine and can be played as if the game is mildly hacked. This probably means that Sega had decided to release it but ultimately didn't (perhaps resulting from Dinosaur King's hasty discontinuation).
Ad blocker interference detected!
Wikia is a free-to-use site that makes money from advertising. We have a modified experience for viewers using ad blockers

Wikia is not accessible if you've made further modifications. Remove the custom ad blocker rule(s) and the page will load as expected.