Some scientists think that Sinraptor and Yangchuanosaurus may be the same creature, or at least that some of their species may be the same.
General Statistics
Edit
Name: Sinraptor dongi
Name Meaning: Chinese Thief
Diet: Carnivore
Length: 7.6 meters (25 feet)
Time Period: Middle/Late Jurassic
Classification: Allosauroidea --> Metriacanthosauridae
Place Found: China
Describer: Currie & Zhao, 1994
Dinosaur King Statistics
Edit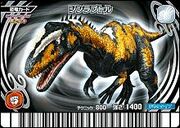 Sign: Rock
Power: 1400
Technique: 800
Attack:

Rock (Critical): 650
Scissors/Paper: 425

Types:

Heroic Type (Japanese 2007 3rd Edition; English & Taiwanese Series 2)
Revival Type (Japanese 2007 4th Edition & 4th Edition+ Fossil card; English and Taiwanese S2 4th Edition)
Defense Type (Japanese Gekizan 2nd Edition+)

Arcade Nickname/Catchcopy:

English: The Gleaming Broadsword
Taiwanese: 閃耀青龍刀
Japanese
English

Series 2 3rd Edition (New; 036-Dino; Heroic Type)
Series 2 4th Edition Fossil Card (KS007-Dino; Revival Type)

Taiwanese

Series 2 3rd Edition (New; 036-龍; Heroic Type)
Series 2 4th Edition Fossil Card (KS007-龍; Revival Type)
Series 2 5th Edition (Heroic Type)
Non-sale Wind's Egg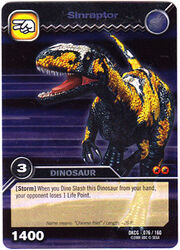 Attribute: Wind
Sign: Scissors
Power: 1400
Level: 3
Life: 2
Card Code: DKCG-076/160
Card Rarity: Silver Rare
Other Forms: Alpha Sinraptor
Abilities:
[Storm]

When you Dino Slash this Dinosaur from your hand, your opponent loses 1 Life Point.
Dr. Taylor's arcade comments:

Japanese: 中国で発見されたアロサウルスににている肉食恐竜だ。鼻面にはひくいとさかがある。
English: A carnivore that was discovered in China, it resembles the Allosaurus. It has a low crest on its nose.
Taiwanese: 在中國被發現的很像異特龍的肉食恐龍,鼻面有著很低的頭冠。

It is the fifth dinosaur available in Fossil Card.
Along with Carnotaurus, Utahraptor, Ceratosaurus, Allosaurus, Neovenator, Monolophosaurus, Dilophosaurus, Megaraptor, Deltadromeus and Eustreptospondylus it is one of the available dinosaurs in Japanese and Taiwanese non-sale Wind's Egg Card.
Along with Saichania, Altirhinus, Yangchuanosaurus, Fukuisaurus, Fukuiraptor, and Alioramus, it is one of available dinosaurs in Japanese Asian Egg Card.