Skydive is a Normal Move Card. It is only in the arcade game.
Statistics
Edit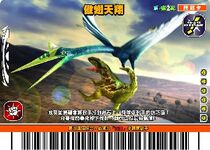 Attribute: Normal
Sign: Rock
Usage Condition: You must win with Rock to use this Move.
Effect: Quetzalcoatlus picks up your opponent, rams them into various landscape-dependent obstacles, and drops them into the ground, dealing damage while lowering their Technique! Hit the move button when indicated to make the attempted hits successful and cause more damage! There are two passing rams before a final spinning divebomb and release.
Some of the obstacles Quetzalcoatlus can ram the opponent into are stacks of crates with the Alpha Gang emblem and an Alpha Gang dinosaur cage (in various Alpha Base locations) and large rocks (in natural locations).
It can be noted that sometimes Quetzalcoatlus doesn't seem to be holding the dinosaur. This is actually an animation error since only one animation was given to each type of dinosaur, so this can be forgiven.