Skydive is a Normal Move Card.
Statistics
Edit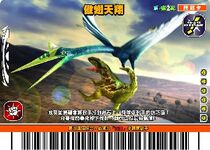 Attribute: Normal
Sign: Rock
Effect: Quetzalcoatlus picks up your opponent, rams them into obstacles, and drops them into the ground! Hit the move button when indicated for more damage!
In the arcade game, you have to win with Rock to use this Move.
It can be noted that sometimes Quetzalcoatlus doesn't seem to be holding the dinosaur. This is actually an animation error since only one animation was given to each type of dinosaur. Therefore, this can be forgiven.