Stun Dash (also called Segno Slapping) is a Normal Move Card.
Statistics
Edit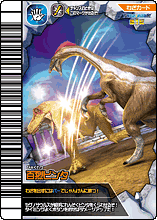 Attribute: Normal
Sign: Paper
Effect: Segnosaurus comes and slaps your opponent repeatedly with its claws, damaging them and lowering their Technique! Rapidly hit the move button to increase the damage they take.
Artwork from its various arcade cards is seen on the TCG Move Cards Counterattack and Desperate Strike.
Ad blocker interference detected!
Wikia is a free-to-use site that makes money from advertising. We have a modified experience for viewers using ad blockers

Wikia is not accessible if you've made further modifications. Remove the custom ad blocker rule(s) and the page will load as expected.