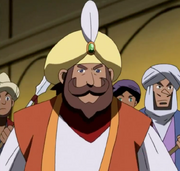 The Sultan of the city of Zahrah, sharing its name with his daughter, Princess Zahrah. He was captured by Rasheed and locked in the dungeon so Rasheed could marry Zahrah and take over as Sultan. He was later freed by Aladdin and retook his rightful role, his guards capturing Rasheed and Zayid.
Ad blocker interference detected!
Wikia is a free-to-use site that makes money from advertising. We have a modified experience for viewers using ad blockers

Wikia is not accessible if you've made further modifications. Remove the custom ad blocker rule(s) and the page will load as expected.