Based on stray teeth, its type species is considered dubious, and its two other species were synonymized with Yangchuanosaurus in 2012.
General Statistics
Edit
Name: Szechuanosaurus campi
Name Meaning: Lizard of Szechuan
Diet: Carnivore
Length: 5-6 meters (16-20 feet)
Time Period: Middle/Late Jurassic
Classification: Allosauroidea --> Metriacanthosauridae
Place Found: China
Discoverer: Young, 1942
Dinosaur King Statistics
Edit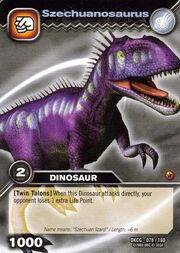 Attribute: Wind
Sign: Rock
Power: 1000
Level: 2
Life: 1
Card Code: DKCG - 078/160
Card Rarity: Common
Abilities:
[Twin Talons]

When this Dinosaur attacks directly, your opponent loses 1 extra Life Point.
Ad blocker interference detected!
Wikia is a free-to-use site that makes money from advertising. We have a modified experience for viewers using ad blockers

Wikia is not accessible if you've made further modifications. Remove the custom ad blocker rule(s) and the page will load as expected.