Tank
Talk

0
620pages on
this wiki
Tank (サイカ Saika) is a Saichania and the Alpha Gang's third dinosaur. Usually Ed or Laura use her, and she has been used once by Seth.
Statistics
Edit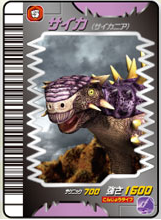 Attribute: Earth
Power: 1600
Technique: 700
Sign: Rock
Owner: Alpha Gang (typically Ed, Zander , Ursula, or Laura)
Name: Tank (サイカ Saika)
Debut: Tanks a Lot!
Dinosaur Defeated: Chomp (with Terry), Ace, Paris, Utahraptor, Daspletosaurus, Saurolophus, Ampelosaurus, Black Tyrannosaurus (with assistance), Carcharodontosaurus
Other: She enjoys tunneling and was turned violent by Dr. Z. Tank also as a Super Form and an DinoTector Form.
Move Cards
Edit
TCG Lores
Edit
You can only Dino Slash "Tank (Battle Mode)" by placing it on top of this Dinosaur.
During your turn, when one of your other Dinosaurs battles, you can send this Dinosaur to your discard pile. If you do, use this Dinosaur's Rock-Paper-Scissors icon to decide which Dinosaur has to use a Move first.
When you Dino Slash this Dinosaur from your hand, all of your other Special Dinosaurs in play gain +200 Power until the end of the turn. (You can only use 1 [Assist] ability per turn.)
If you have a Fire Dinosaur in play when you Dino Slash this Dinosaur, draw 1 card.
If your Turn Counter is 4 or higher, you can Dino Slash "Tank (Dinotector)" by placing it on top of this Dinosaur.
Earth Special Dinosaurs can use this card as a Super Move that gives +500 Power.
When you Dino Slash this Dinosaur, you can reveal your hand. If you do and there are no Dinosaurs, choose a Special Dinosaur from your deck and put it into your hand. Then, shuffle your deck.
This Dinosaur can use all Earth Super Moves.
During your opponent's turn, when this Dinosaur uses a Super Move and wins the battle, your opponent loses 1 extra Life Point. (This ability doesn't work if another ability makes your opponent lose extra Life Points after the battle.)
While your Character is face up, this Dinosaur's Power is 1700 (from 1500).
When this Dinosaur uses a Fusion Move, it gains an extra +300 Power.
In the dub, she was originally called a boy, but later was called a girl. The original series called her a girl.
She is rendered helpless when she is flipped onto her back. When that happens, Zander and Ed are usually forced to flip her back over - not an easy task, as she weighs several tons.
Tank is the only main dinosaur that does not defeat any of the Spectral Space Pirates' altered dinosaurs.
When she fights the D-Team, she is often defeated by Ace using Ninja Attack.
Tank is highly skilled at digging tunnels very quickly (both horizontally and even vertically), and is capable of creating smooth, circular tunnels in spite of having spikes on her back.
TCG Gallery
Edit