Technique Boost (Technique Up in the Japanese arcade) is a Normal Move Card.
Statistics
Edit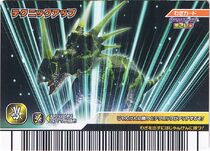 Attribute: Normal
Sign: Scissors
Effect: Increase your Dinosaur's Technique stat after a win!
An altered version of one of its various arcade cards is seen on the TCG Move Card Thunder Power (blue replaced by yellow).
This Move can only be used twice for a Dinosaur. This mechanic is similar to Attack Boost, Defense Boost, Leaellyn Cure, and Elemental Power.