Thunder Bazooka is a Lightning Move Card.
Statistics
Edit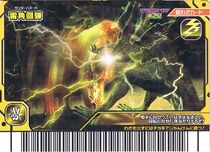 Attribute: Lightning
Sign: Scissors
Owner: Max Taylor (D-Team)
Used by: Chomp
First Appearance: Ruff and Ready
Used to Defeat: Terry, Stegosaurus, Spiny, Tank, Megalosaurus, Saurophaganax (as fusion move), Torvosaurus (as fusion move), Piatnitzkysaurus
Effect: Run forward, jump into the air, spin around, gathering electricity around your body, then slam into your opponent!
Other: It was in the card folio Jonathan had. It was stolen by the Alpha Gang, but was reclaimed by Dr. Taylor who gave it to Max. It was Chomp's fourth Move Card.
TCG Lores
Edit
+1000; (Only a Scissors Lightning Dinosaur can use this Move.)
In the arcade game, you have to win at Scissors to use this Move.
It can be combined with Cyclone to form the Fusion Move Thunder Storm Bazooka.
When Max uses this Move, he leaps into the air and lightning erupts from the card. Though this is likely for audience-only visual effect, this action is clearly interrupted mid-way by Rod and Laura in Beast or Famine, making him fall flat on his face.
Ad blocker interference detected!
Wikia is a free-to-use site that makes money from advertising. We have a modified experience for viewers using ad blockers

Wikia is not accessible if you've made further modifications. Remove the custom ad blocker rule(s) and the page will load as expected.