Thunder Driver is a Lightning Move Card.
Statistics
Edit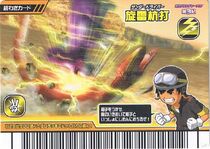 Attribute: Lightning
Sign: Scissors
Owner: Max Taylor (D-Team)
Used by: Chomp
First Appearance: Dinosaurs, Ninjas, and Bears! Oh, My!
Used to Defeat: Baryonyx, Pentaceratops, Anchiceratops
Effect: Surge yourself full of electricity, throw your opponent into the air, jump up, spin down, slam into them, and drive them into the ground!
Other: It was created by Dr. Z. and given to Max. It was Chomp's eighth Move Card.
In the arcade game, you have to win at Scissors after a win to use this Move.
Ad blocker interference detected!
Wikia is a free-to-use site that makes money from advertising. We have a modified experience for viewers using ad blockers

Wikia is not accessible if you've made further modifications. Remove the custom ad blocker rule(s) and the page will load as expected.