Tornado Toss is a Wind Move Card.
Statistics
Edit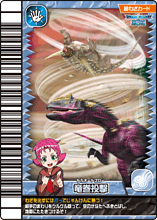 Attribute: Wind
Sign: Paper
Owner: Gavro (Space Pirates)
Used by: Afrovenator
First Appearance: The 39 Thieves
Used to Defeat: Spiny
Usage Condition: You have to win with Paper to use this Move.
Effect: Run around your opponent extremely fast, creating a whirling tornado vortex that lifts your opponent off the ground and throws them into the air! Because it was used in a cave in the anime, Spiny was thrown into the ceiling of the cave before crashing back down.
Other: Gavro used it for Afrovenator to defeat Spiny. It was the last new Wind Move in the anime.
TCG Lores
Edit
+1000; (Only a Paper Wind Dinosaur can use this Move.)
Artwork from its various arcade cards is also seen on the TCG Move Cards Vanquishing Vortex and Twisting Tornado.
It is the only Wind Move that wasn't used by Ace during the series.