Troodon (first spelt "Troödon") was originally confused with Stegoceras because it was only known from teeth, and the teeth of Troodon and Stegoceras were quite similar, despite being unrelated, leading to the idea that Troodon was omnivorous. Based on a single tooth, "Troodon" may prove to be dubious.
General Statistics
Edit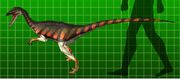 Name: Troodon formosus
Name Meaning: Wounding Tooth
Diet: Omnivore
Length: 2-3 meters (6-10 feet)
Time Period: Late Cretaceous
Classification: Deinonychosauria --> Troodontidae
Place Found: Canada, USA
Describer: Leidy, 1856
Dinosaur King Statistics
Edit
Attribute: Normal
Appears In: Move Cards (Move Block)
Power (TCG): 1100
Sign: Rock
Move Cards
Edit
2 Troodon come and stop your opponent from using their one of their moves next turn!
TCG Lores
Edit
Knockout Strike

When this Dinosaur wins a battle, you can return 1 of your opponent's dinosaurs to their hand.

Spirited Strike (Pouncing Troodon)

During your turn, you can discard 1 card. If you do, this Dinosaur can attack your opponent directly this turn. You can only use this ability once per turn.
In the TCG, Troodon is considered a Wind Attribute Dinosaur.
According to the English arcade game, the two Troodon in Move Block are parent and child.