In 2013, studies have shown that the horn-like protrusion of Tsintaosaurus was actually the back of a bigger crest, meaning it would have looked more like Lambeosaurus.
General Statistics
Edit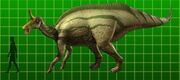 Name: Tsintaosaurus spinorhinus
Name Meaning: Lizard of Tsingtao
Diet: Herbivore
Length: 10 meters (33 feet)
Time Period: Late Cretaceous
Classification: Hadrosauridae --> Lambeosaurinae
Place Found: Tsingtao Province, China
Describer: Young, 1958
Dinosaur King Statistics
Edit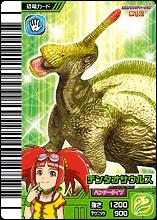 Attribute: Grass
Power: 1200
Technique: 900
Sign: Paper
Name: Chisotao (Dainason)
Other: Tsintaosaurus uses its horn in battle, although in reality, its horn is very fragile. It also has a weird chibi version of it in Dainason. Other forms of it are Super Tsintaosaurus, Alpha Tsintaosaurus, and Animated Tsintaosaurus.
TCG Lores
Edit
Heal

When this Dinosaur wins a battle during your turn, you gain 1 Life Point.

Team Up: +400 (Friendly Tsintaosaurus)

You can play this card as a Move that gives +400 Power.
Ad blocker interference detected!
Wikia is a free-to-use site that makes money from advertising. We have a modified experience for viewers using ad blockers

Wikia is not accessible if you've made further modifications. Remove the custom ad blocker rule(s) and the page will load as expected.