Tupuxuara Dive is a Normal Move Card.
Statistics
Edit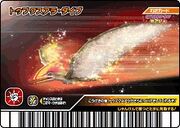 Zander had Tank use this Move to help save the D-Team after they fell off a collapsing bridge. Tupuxuara saved Zoe. He also helped chase Foolscap away.
This Move was likely made by Dr. Z, as no other Dinosaur used it before Tank, though the origin of the Tupuxuara it summons is unknown.
The glow around Tupuxuara and the sign of the Move Card (Rock) are both red. The other 2 Dive Moves (Anhanguera Dive and Tapejara Dive) work similarly.
Ad blocker interference detected!
Wikia is a free-to-use site that makes money from advertising. We have a modified experience for viewers using ad blockers

Wikia is not accessible if you've made further modifications. Remove the custom ad blocker rule(s) and the page will load as expected.