Tupuxuara Dive is a Normal Move Card.
Statistics
Edit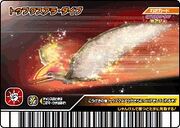 It is the first Assist Move of Tupuxuara.
This card was only available in the Japanese version.
Zander had Tank use this Move to help save the D-Team after they fell off a collapsing bridge. Tupuxuara saved Zoe. He also helped chase Foolscap away.