Statistics
Edit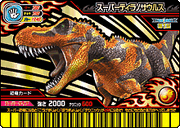 Species: Tyrannosaurus
Power: 2000
Technique: 600
Sign: Paper
Other: The upgraded form of Tyrannosaurus.If Super Tyrannosaurus was in the Ds Game it would have been named Awakened Tyrannosaurus. Although they are the same species, Super Tyrannosaurus and Super Terry have different cards and stats.
Ad blocker interference detected!
Wikia is a free-to-use site that makes money from advertising. We have a modified experience for viewers using ad blockers

Wikia is not accessible if you've made further modifications. Remove the custom ad blocker rule(s) and the page will load as expected.