Statistics
Edit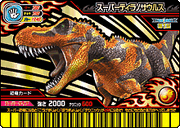 Availability
Edit
Like all Super Dinosaurs, it is only available in the Japanese arcade.
Kakushin 1st Edition (SU01)
Kakushin 2nd Edition (SU07)
Kakushin 3rd Edition (SU20)
Kakushin 4th Edition (SU34)
Kakushin 5th Edition Super Ω (SU42)
McDonald's Happy Set Meal Edition (SU17)
If Super Tyrannosaurus was in the DS Game, it would have been named "Awakened Tyrannosaurus".
Along with Super Majungasaurus, Shantungosaurus, Nodosaurus, Eucentrosaurus and Opisthocoelicaudia, it is one of the first Super Dinosaurs in the arcade. And only its card is available in all Kakushin Editions except the Kakushin 6th Edition.
It was fourth Super Dinosaur available in Japanese McDonald Happy Set Meal Edition.
Ad blocker interference detected!
Wikia is a free-to-use site that makes money from advertising. We have a modified experience for viewers using ad blockers

Wikia is not accessible if you've made further modifications. Remove the custom ad blocker rule(s) and the page will load as expected.