Ultimate Fire is a Fire Super Move. It can only be used by DinoTector Tyrannosaurus.
Statistics
Edit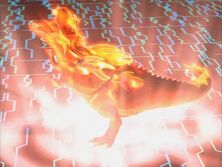 Attribute: Fire
Sign: None
Owner: Dr. Z, Ursula (Alpha Gang)
Used by: Terry
First Appearance: Dinosaurs of the Caribbean
Used to Defeat: Edmontonia, Gigas
Effect: Gather fire around your body, then push it forward to form a wall of fire in front of you, and ram into your opponent with it!
Other: It was created by Dr. Z to be used with the Fire Element Booster, which he used for himself and later gave to Ursula.
TCG Lores
Edit
+500 or +1000; If "Terry (DinoTector)" uses this Move, it gains +1000 Power instead of +500.
In the arcade game, Ultimate Fire has no card: it is a built in ability of DinoTector Tyrannosaurus, and is used automatically the first time you win after the armor is equipped.
Ultimate Fire is the only Fire Move not to be used or tried to be used against the D-Team's main dinosaurs.
In Dinosaurs of the Caribbean, Dr. Z is accidentally shown slashing a Fire Dinosaur card when using this Move.