Ultimate Thunder is a Lightning Move Card. It can only be used by DinoTector Triceratops.
Statistics
Edit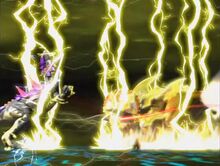 TCG Lores
Edit
+500 or +1000; If "Chomp (DinoTector)" uses this Move, it gains +1000 Power instead of +500.
In the arcade game, Ultimate Thunder has no card: it is a built in ability of DinoTector Triceratops, and is used automatically the first time you win after the armor is equipped.
Cryolophosaurus was the only dinosaur to be targeted by this Move but survive—its speed let it sidestep the bolt of electricity that would have held it in place.
Ad blocker interference detected!
Wikia is a free-to-use site that makes money from advertising. We have a modified experience for viewers using ad blockers

Wikia is not accessible if you've made further modifications. Remove the custom ad blocker rule(s) and the page will load as expected.