Ultimate Wind is a Wind Super Move. It can only be used by DinoTector Carnotaurus.
Statistics
Edit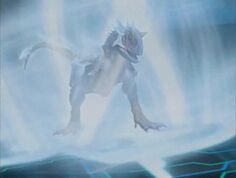 Attribute: Wind
Sign: None
Used by: Ace
First Appearance: Amazing Treasure Race
Used to Defeat: Megaraptor, Genie (with Chomp), Gigas (with assistance), Apatosaurus (with assistance)
Effect: Surround yourself with wind, then shoot forward and ram into your opponent!
Other: It was created by Dr. Z and given to Rex to be used with the Wind Element Booster.
TCG Lores
Edit
+500 or +1000; If "Ace (DinoTector)" uses this Move, it gains +1000 Power instead of +500.
In the arcade game, Ultimate Wind has no card: it is a built in ability of DinoTector Carnotaurus, and is used automatically the first time you win after the armor is equipped.
It was the only Ultimate Move not to be used against the first dinosaur its user faced when in DinoTector Armor.
Ad blocker interference detected!
Wikia is a free-to-use site that makes money from advertising. We have a modified experience for viewers using ad blockers

Wikia is not accessible if you've made further modifications. Remove the custom ad blocker rule(s) and the page will load as expected.