Ultimate Wind is a Wind Super Move. It can only be used by DinoTector Carnotaurus and Ace.
Statistics
Edit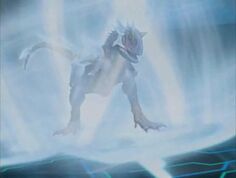 TCG Lores
Edit
+500 or +1000; If "Ace (DinoTector)" uses this Move, it gains +1000 Power instead of +500.
In the arcade game, Ultimate Wind has no card: it is a built in ability of DinoTector Carnotaurus and DinoTector Ace, and is used automatically the first time you win after the armor is equipped.
Like most Move Cards, the anime never showed its front image.
It was the only Ultimate Move not to be used against the first dinosaur its user faced when in DinoTector Armor.