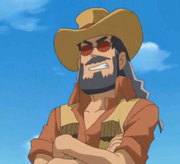 A poacher on the plains of Africa seen in Rhino or Dino?. His group teamed with the Alpha trio, resulting in them catching many wild animals, but they were mainly after the Torosaurus. He was eventually captured by Mary.
Ad blocker interference detected!
Wikia is a free-to-use site that makes money from advertising. We have a modified experience for viewers using ad blockers

Wikia is not accessible if you've made further modifications. Remove the custom ad blocker rule(s) and the page will load as expected.