Wall Smash is a Normal Move Card. It is only in the arcade game.
Statistics
Edit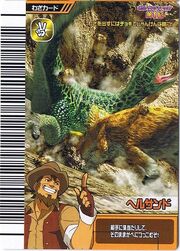 Attribute: Normal
Sign: Scissors
Usage Condition: You must win with Scissors to use this Move. It is best used by a dinosaur with 800-100 Technique (1000-1200 Power).
Effect: Distract your opponent by looking the other way, then charge up to them and push and slam them into a stone wall!
Artwork from its various arcade cards is seen on the TCG Move Cards Sand Storm and Cranial Comet.